Birth(+)Fact(x)Death(-) Calendar
Walters
and his girlfriend
Carol Van Deusen
purchased 45 eight-foot weather balloons and obtained helium tanks from
California Toy Time Balloons
.
Walters
attached the balloons to his lawn chair, filled them with helium, put on a parachute and strapped himself into the chair in his backyard. He took his pellet gun, a CB radio, sandwiches, soda, and a camera. When his friends cut the cord that tied his lawn chair to his Jeep,
Walters
's lawn chair rose rapidly to a height of about 15,000 feet (4,600 m). He slowly drifted over Long Beach and crossed the primary approach corridor of
Long Beach Airport
. After 45 minutes in the sky he shot several balloons and then accidentally dropped his pellet gun overboard. He descended slowly until the balloons' dangling cables got caught in a power line, causing a 20-minute electricity blackout in a Long Beach neighborhood.
Walters
was able to climb to the ground and was immediately arrested by waiting members of the
Long Beach Police Department
. Just after landing, Walters spoke to the press, saying
"It was something I had to do. I had this dream for twenty years, and if I hadn't done it, I think I would have ended up in the funny farm."
(2 July 1982)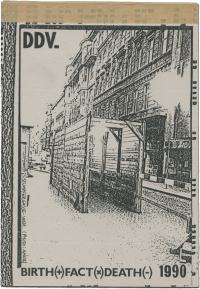 There are
2985 births
,
2996 deaths
,
769 murders
,
357 disasters
and
1654 other events
about
4660 people
in
5255 places
until today.
Birth(+)Fact(x)Death(-) Calendar is an ongoing project since 1985 by DDV.
Like BFD on Facebook
Follow BFD on Tumblr
Like DDV on Facebook
Follow DDV on Twitter