BirthFactDeath (-)

Sunday 22nd of July 1934
87 years ago
---


Bank robber John Herbert Dillinger is supposedly shot dead by Melvin Purvis at the age of 31 in Biograph Theater, 2433 North Lincoln Avenue, Chicago, Illinois, United States.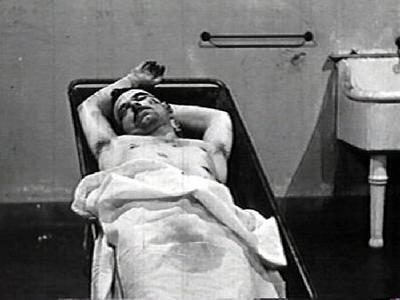 Dillinger was struck four times, with two bullets grazing him, one cut a superficial hole in his right side, and the fatal shot - which entered Dillinger through the back of his neck, severed his spinal cord and tore through his brain before exiting out the front of his head just under his right eye, severing two sets of veins and arteries. An ambulance was summoned though it was clear Dillinger had quickly died from his gunshot wounds. At 10:50 p.m. Dillinger was pronounced dead at Alexian Brothers Hospital. He died without saying a word. There were reports of people dipping their handkerchiefs and skirts into the blood pool that had formed.
In 'The Dillinger Dossier' author Jay Robert Nash maintains that Dillinger escaped death at the Biograph Theater simply by not being there. In his stead was a 'Jimmy Lawrence', a local Chicago petty criminal whose appearance was similar to Dillinger's.
---